Comics & Graphic Novels | Collectible Card Games | Toys & Collectibles
Board Games | Sports Memorabilia | Anime & Manga

We are big into comics, and we know you are too!  New books and comics hit the shelf every Wednesday including Marvel, DC, Image, Vertigo, and more.  Come check out GP's largest comic shop!

Work in camp or just hate missing an issue?  Please ask about opening a file and let us do the work for you.  Discounts apply for all file customers.

---

 Think trading cards and Magic The Gathering instantly comes to mind.  We carry all new releases of Magic as well as a legacy stock of older sets as well.  We are always adding to our selection and are proud to offer singles of all rarities as well.  Stop by soon to check out our showcase of mythic rare and collector cards from all sets.

---

Need a gift for yourself or someone else?  We've got you covered from (A)dventure time to (Z)elda. Limited edition statues (including Sideshow collectibles), high-end action figures, wallets, belt buckles, steampunk, cosplay, Star Wars, Game of Thrones…and much much more!

---

At Strange ideas we have a huge selection of board games.  If we don't have it we can order it.  Special orders are often less than a week (and of course 10% off!). 
We also have GP's largest selection of roleplaying games and accessories including Pathfinder, D&D, Warhammer 40k, Rifts and more.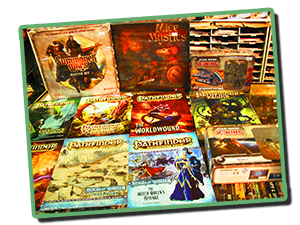 We also offer many other card games and trading cards.  For further information please give us a shout using the information on the Contact Page or stop by.  We will be glad to show you what we have in store.
If you are interested in joining our leagues and game nights, check out the Schedule & Events page for the next event. 
---

We are also pleased to offer a selection of Sports Cards and other memorabilia.  If you are an avid collector, or simply a casual collector you will find many options here at Strange Ideas.

---

We have a vast selection of Anime & Manga from graphic novels to gifts and toys.  Come check out our selection and see what we have in store.